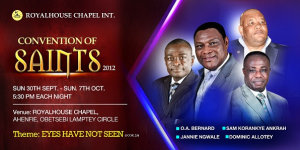 Convention of saints 2012
It's time for the saints of the Most High God to gather under His feet to hear transformational words and encounter His power through his generals. It's time for the scriptures to be expounded and the hidden truths told for the liberation of the souls of the people of God.
It's the time, the moment, the occasion where God reveals to his children what no eyes have seen, what no ears have heard and what no mind can understand.
Yes! It's the time for "CONVENTION OF SAINTS 2012". Royalhouse Chapel International, Ahenfie, with the Rev. Sam Korankye Ankrah will host guest speakers:  Rev. Jannie Ngwale, Bishop Bernard Owusu Ansah, Bishop Dominic Allotey and thousands of saints from Sunday 30th September 2012 to Sunday 7th October 2012 at 5pm each nightunder the theme "Eyes Have Not Seen". The men of God will preach, teach and usher believers into their miracles and breakthroughs.
There will also be communion, anointing and impartation service on Sunday 7th October, 2012 at 5pm. Don't miss out on this opportunity to possess your long awaited miracles. We are live on WWW.royalhousechapel.org.