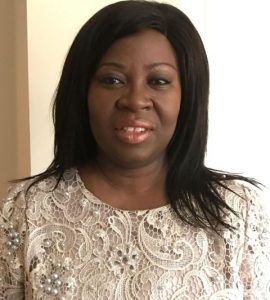 SENIOR PASTOR
Rev Mrs Nandy Amanor is the senior pastor of the East London Mission of Royalhouse Chapel International (RCI). Affectionately known as Mama Nandy, she is dedicated to the vision of Royalhouse Chapel and has served in both Ghana and the UK. In all her roles she has worked with an inspirational zeal and passion for the Lord. She was pivotal in establishing Royalhouse in Europe which has over nine missions and counting. She is also a founding mother of the Royal Ladies Ministry and currently serves as the International Co-ordinator.
Mama Nandy has become noted for her powerful teaching of the Word of God, delivering impactful and practical messages that are relevant to everyone.  She is an international conference speaker, motivational speaker and highly regarded marriage counsellor.
She has a strong mentoring ministry, particularly for women and young adults and displays great compassion, sensitivity and patience to all. She is committed to equipping women in the church to discover and unlock their potential. She also believes in the power of the youth and is passionate about enabling them to fulfil their prophetic destiny and impact their generation. This has led to her formation of an exciting and dynamic youth ministry in East London Mission, The Eagle Generation, a mentorship program for 11 to 18 year olds.
As a community advocate, her focus is not only on affecting her congregation, but also the wider community in which she serves as a pastor.  Under her leadership, initiatives such as sponsorship of a local children's hospice, a food bank and support to victims of domestic violence, have been created, to name a few.
In her professional life she works as a Management Accountant and she is a proud alumnus of the University of Ghana (UoG) and City University (CU), in London, UK. She holds an honours degree and an MBA in Finance from the UoG Business School. A Masters in Charity Management & Accounting from CASS Business School (CU), and DChA  Diploma in Charity Accounting from Institute of Chartered Accountants, England and Wales (ICAEW).  She also holds an Advance Diploma from the Chartered Institute of Management Accountants (CIMA). More recently, she has sought to build on her counselling experience and now has a Postgraduate Certificate in Counselling Psychology also from CU.
She is happily married to Rev Dalkeith Amanor, a founding member of RCI, the General Secretary of RCI and Apostle-Elect of Europe missions, together they make their home in Essex, in the United Kingdom.